Experience in Many Areas of Law & Business
Our attorneys specialize in estate planning, probate, business/corporate, tax, succession and retirement planning, intellectual property and family businesses, which includes business succession and business acquisitions.
We work closely with each client's accountants and financial advisors to ensure that all aspects of financial, accounting, and tax planning matters are dealt with efficiently and thoroughly to obtain the best results for the client.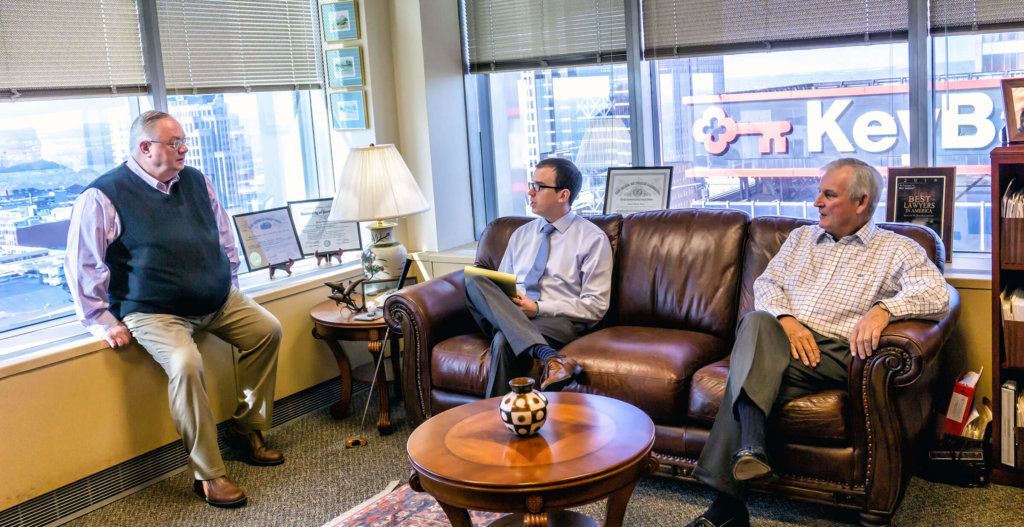 Estate Planning
Helping You Manage Your Estate
Estate planning is a process of structuring each client's wealth in such a manner as to better accomplish their goals and dreams. It is ever so much more than the mechanical drafting of wills and trusts. Estate planning is the means by which we help organize the client's wealth in such a manner as both to minimize the probate costs following their death and providing an efficient transfer of wealth from one generation to another.
We provide experienced and knowledgeable estate planning for families and individuals. Our practice involves the preparation of wills, trusts, living wills and powers of attorney. We also provide more sophisticated estate planning including irrevocable trusts, special needs trusts, family partnerships, limited liability companies, personal private foundations, generation skipping and charitable planning. We strive to use a creative approach to assist our clients to preserve their wealth and to protect their assets. A principal focus for our estate planning clients is to prepare an estate plan that will reassure them that family and loved ones' needs are met in the future in the most tax advantageous manner (Please also see Probate). While Phillip Lilly heads up this side of the practice, we rely heavily on Michael Ebner who is a highly talented and skilled draftsman whose varied background gives him, and us, a unique approach to estate planning.
Fixed Fee
We understand the limitations of the hourly rate for lawyers. As a transactional practice, we believe the fixed fee is especially appropriate for estate planning and for the initial start up costs of a corporation or limited liability company. We believe it gives our clients a level of comfort to avoid an open-ended arrangement whenever possible. For more information about our fixed fees, please contact us.
Questionnaire
If you would like to be contacted by Becker & Lilly, LLC to discuss your estate planning needs, please complete a Questionnaire and Submit it. One of our attorneys will contact you within 24 hours to discuss our potential representation. All information is kept in strict confidence and will be deleted/destroyed upon your request. We look forward to speaking with you.
Probate
Navigating the Legal System With You
We understand the process of family grief that follows the death of a loved one. Part of what we do is assist the family in navigating the requirements of the legal system. We handle probate matters throughout the State of Ohio and are well versed in dealing with the myriad of probate forms and tax returns often required in such matters. Our Probate Paralegal, Beth Leyda, handles this workload and she is incredibly knowledgeable and efficient.
Our overriding goal in the probate court is to make the process go as smoothly as possible and allow the family to move forward with their lives while we deal with the headaches associated with the system. An integral part of our service is proper post-mortem planning for the estate of the deceased and the family. In addition to the foregoing, we also assist our clients in litigation that sometimes arises as a part of the probate process. Finally, we also assist in the preparation of Federal estate tax returns.
Tax
Providing Efficient Tax Solutions
We have extensive knowledge of both corporate and personal tax matters, including estate and gift taxation. We draw on this experience constantly in every facet of our practice. We are ever conscious of providing not only creative but tax efficient solutions to our clients' needs.
More particularly, we utilize our tax expertise in regard to the planning and structure of any number of business transactions from the routine to the complex. All business transactions have a tax component and our combination of business acumen and tax knowledge allows us to provide essential direction to our clients.
With regard to individual planning, be it estate planning, wealth management or succession planning, our tax knowledge is particularly useful in the creation of tax efficient planning. Every such plan is enhanced by the use of proper tax planning.
Business Planning
Working as Part of Your Business Team
For our business clients, we seek to add value in everything we do. We work in a team environment with our clients, their officers and other professionals. We help our clients organize new business ventures and assist them in obtaining the initial capital financing to operate. We are an integral part of a client's team. We become closely involved in the day-to-day business affairs of our clients.
We also are involved in dispute resolution, the coordination of succession planning, the drafting of contracts of every type, mergers and acquisitions and the negotiating of such arrangements, assisting in matters relating to employees and compensation and retirement planning and in the sale of a business. All in all, our goal is to work closely with our clients and provide both the legal and business support that allows them to become the best they can be. We believe our tax background provides an excellent framework within which to approach all business issues.
Intellectual Property
Assisting with Trademarks, Copyrights & More
With regard to intellectual property matters, we specialize in assisting our clients in developing, obtaining and protecting trademarks, trade secrets, and copyrights as well as licensing the same on both the national and international level. We prosecute Trademark and Copyright applications through the USPTO on a regular basis. Phillip Lilly spearheads these efforts with the highly qualified assistance of Debbie Belcher.
We often negotiate and draft contracts dealing with technology licensing, the transfer of intellectual property rights, and draft restrictive covenants and confidentiality agreements. The intellectual property portion of our practice compliments our business practice by offering a niche ability many small firms do not offer.
Family Business
Understanding Your Business & Family
In regard to family businesses, we have a wealth of experience in representing both the business and the family in dealing with all of the legal and non-legal matters that are most always present in a family business. We are knowledgeable of and sensitive to the inter-generational concerns that can transcend the mere legal needs of a business.
We always seek to provide solutions to those matters in the most efficient manner that serves both the business and the family. We understand that business, family issues and estate planning can and often do merge into one continuing exercise. With regard to our family business representation, the business planning and estate planning becomes seamless. (Please also see Estate Planning.) Michael Becker has been a member of AFFHE for many years and is one of the best attorneys in Ohio in business planning and specifically in assisting in the transfer of family businesses to multiple generations.